Main Content
Stop the Spread of COVID-19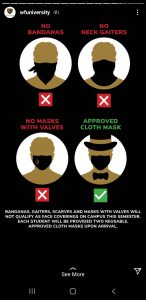 If you are sick with COVID-19 or think you might have COVID-19, follow the steps below to care for yourself and to help protect other people in your home and community.
Stay home except to get medical care (DO NOT come to work if you are sick).
Call your unit head or supervisor as soon as possible, who should then inform Melissa Clodfelter (clodfem@

null

wfu.edu) in Human Resources.
Separate yourself from other people in your home, this is known as home isolation.
Call ahead before visiting your doctor.
Cover your coughs and sneezes.
Clean your hands often.
Avoid sharing personal household items.
Clean all "high-touch" surfaces everyday.
Monitor your symptoms.
---
---
---
WFU University Police and First Responders
COVID-19 PPE Training for Law Enforcement and First Responder
COVID-19 Guidance to Law Enforcement
---
To ensure the safety of our campus residents, we are asking you to provide a copy of your Safety & Health plan developed to respond to COVID-19 health concerns. Please forward an electronic copy of your company's plan to wfuehs@nullwfu.edu.