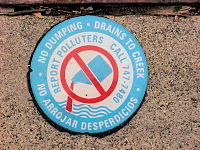 Storm drains on the property of Wake Forest University are identified with a marker.
Storm drains are pipes that remove rain water from our streets and then flow directly to the closest creek or stream.
Only rain water should enter storm drains.
Oil or chemicals disposed of into a storm drain or drainage ditch will flow, untreated, into the closest stream or creek.
One quart of motor oil can contaminate 250,000 gallons of water. One quart of motor oil creates an oil slick the size of eight football fields.
Oil and water do not mix.
Only rain belongs in the storm drain. Contact Mike Draughn (draughnmd@nullwfu.edu or 336.758.4001) in Facilities and Campus Services with storm water questions.
For more information visit the water quality program page on the Forsyth County | North Carolina website.
Questions?
Need to report an unsafe condition or incident?
Phone: 336.758.EHAS (3427)
Email: wfuehs@wfu.edu
Office Location: The EHS building is in the Facilities Compound on Wingate Road. It is the last building on the left up from Fleet Services, next door to Landscaping.