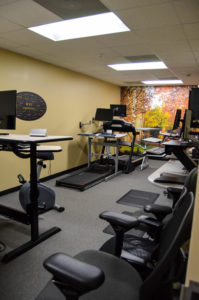 Ergonomics is the science of fitting the job to the worker. EHS has implemented an ergonomics program to focus on the prevention and management of work-related musculoskeletal disorders associated with repetitive job duties. By providing a better fitting work environment, an employer can expect higher productivity; avoidance of illness and injury risk; and increased job satisfaction among workers.
EHS provides ergonomic evaluations for computer workstations and material handling.
In the meantime, take a look at Alternate Workplace Ergonomics for telecommuting and at home work.
More Ergonomic Information
Questions?
Need to report an unsafe condition or incident?
Phone: 336.758.EHAS (3427)
Email: wfuehs@wfu.edu
Office Location: The EHS building is in the Facilities Compound on Wingate Road. It is the last building on the left up from Fleet Services, next door to Landscaping.