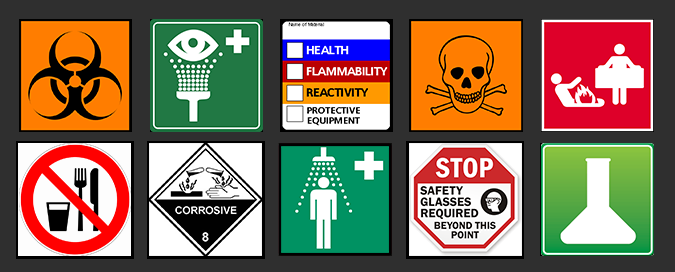 Wake Forest University strives to provide a safe working environment while working in the laboratory. Anyone working in a laboratory must first complete the general Lab Safety Training and any lab specific training that may be necessary when working with radioisotopes, animals, lasers, etc. It is also required that lab workers review applicable content of the Wake Forest University Chemical Hygiene Plan.
Chemical Hygiene Plan
This Chemical Hygiene Plan reviews policies, procedures and responsibilities that protect faculty, staff and students from the health hazards associated with the hazardous chemicals within their particular lab. All lab workers must review those portions of the plan pertinent to their work and to any areas in the lab that may present hazards.
BioSafety Plan
The Biosafety Plan has been developed to provide guidance and enforce policies and procedures of the Biosafety Committee to microbiological and biomedical practices at Wake Forest University's (WFU) laboratories. These policies and procedures apply to any research involving recombinant or synthetic nucleic acid molecules inserted into cells/organisms and potentially pathogenic microorganisms. In addition, the policies and procedures specify safety practices and the safe handling of biological materials.
Laboratory Safety Topics
Laboratory Research Requirements